New Hope Student Ministry
The Student Ministry at New Hope is for all students in 6th-12th grades. They meet on Sundays and Wednesdays in the refinery located behind the main new hope building.
Our ministry exists to help students:

SHARE Jesus with non-believing students.
CONNECT with other Christians.
GROW in their faith.
SERVE others.
HONOR God with their life.
We do that through thought-provoking small group times, spirit-filled worship, Bible-centered large group times, and God-honoring events.
Wednesday Nights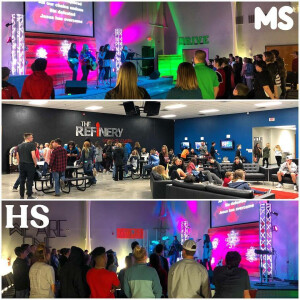 Wednesday nights we meet in The Refinery for fun, fellowship, and food! It's a laid back atmosphere with plenty of games, including video games, Foosball, basketball, volleyball, and more! Throw in an awesome time diving into God's Word and it all makes for an incredible night.
Doors open at 5:00 pm to hang out!
Middle School IGNITE starts at 6:00
High School RADIATE starts at 7:20
SUNDAY MORNINGS
Sunday mornings we also meet in The Refinery for small group Bible study. It's a chance to really dig deep into God's word and ask the tough questions about how to live out a life that honors Jesus.
Sunday school starts at 9:00 Am!
SUNDAY EVENINGS
SALT (Student Accountability Leadership Team) @ 6:00pm
Safety
All teachers are required to submit to a thorough background check. In addition all teacher helpers must attend training.